---
Burgie Candelaria
March 20, 1991 - September 9, 2004
Burgie has passed to the Rainbow Bridge
While he waits, we will miss him much and remember him often
---
---
Hi, my name is Burgie. I'm a Tri-Colored Male Sheltie and this is my place on the Internet. I was born March 20, 1991 in Beaumont, California and was adopted by my first Papa on June 8, 1991. That's when I moved to San Jacinto, California and that's where I lived until my new Ma and Pa (who is my first Papa's human child) adopted me on January 15, 1996.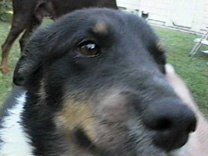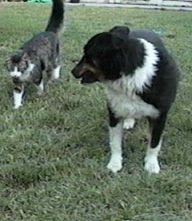 That Eddie thinks he is so cool!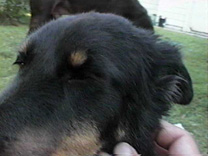 But I'm the coolest.
---
I like going on car trips and long walks with Suni, my Ma and Pa I also like to patrol our back yard. I let everybody know that I'm the boss around here and they better know it. I didn't get much socialization when I was a pup and I learned not to trust too many people. Kids used to torment me at my first home so I can hardly stand kids. Blech! Suni loves kids and other dogs but not me. I only like certain people, only a couple of kids and the only other dog I really like is Suni.
I LOVE wrestling with Suni!
always win.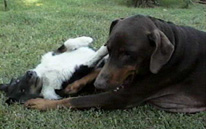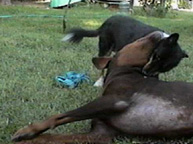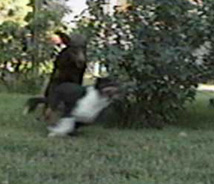 I Love Cold Hot Dogs
But my Pa doesn't give them to me. When I was at my first home used to get three or four cold hot dogs a day. But now --- none! In fact, lately he's been feeding us carrots as a snack. Oh, I learned to eat them but... what do I look like, Hopalong Rabbit?!
---
---
Back to Pet's Page
---
All site contents © 1997 - 2014 Joseph E Candelaria